Development and Evaluation of the Dietary Pattern Calculator (DiPaC) for Personalized Assessment and Feedback
Publication
:
Canadian Journal of Dietetic Practice and Research
Abstract
This study aimed to develop and validate a diet assessment screener – the Dietary Pattern Calculator (DiPaC). A scoping review identified currently available short diet quality assessment tools. Twenty-one articles covering 19 unique tools were included. The current tools mainly focused on individual nutrients or food groups or were developed for a specific population, and few ascertained overall dietary patterns. The 24-hour dietary recalls from the nationally representative Canadian Community Health Survey (CCHS)-Nutrition 2015 (
n
 = 13,958) were used to derive and validate a personalized dietary pattern informed by the scoping review using weighted partial least squares. The dominant dietary pattern in CCHS-Nutrition 2015 was characterized by high consumption of fast foods, carbonated drinks, and salty snacks and low consumption of whole fruits, orange vegetables, other vegetables and juices, whole grains, dark green vegetables, legumes, and soy. The dietary pattern assessment was used to create and evaluate DiPaC following an agile and user-centred research and development approach. DiPaC, which demonstrated high validity and intermediate reliability (internal consistency = 0.47–0.51), is publicly available at
https://www.projectbiglife.ca/
. DiPaC can be used by the public, clinicians, and researchers for quick and robust assessment of diet quality, providing immediate feedback with the advantage of being easy to implement.
Résumé
Cette étude visait à élaborer et à valider un outil d'évaluation de l'alimentation, la Dietary Pattern Calculator [Calculatrice des habitudes alimentaires] (DiPaC). Un examen de la portée a permis d'identifier les outils d'évaluation de la qualité de l'alimentation courts actuellement disponibles. Vingt et un articles couvrant 19 outils uniques ont été inclus. Les outils actuels sont principalement axés sur des nutriments ou des groupes alimentaires individuels ou ont été créés pour une population particulière, et peu d'entre eux permettent de déterminer les modèles alimentaires globaux. Les rappels alimentaires de 24 heures de l'Enquête sur la santé dans les collectivités canadiennes (ESCC) - Nutrition de 2015 (
n
= 13,958), représentative à l'échelle nationale, ont été utilisés pour dériver et valider un modèle alimentaire personnalisé fondé sur l'examen de la portée à l'aide des moindres carrés partiels pondérés. Le modèle alimentaire dominant dans l'ESCC – Nutrition de 2015 était caractérisé par une consommation élevée de repas-minute, de boissons gazéifiées et de collations salées et par une faible consommation de fruits entiers, de légumes orange, d'autres légumes et jus, de grains entiers, de légumes vert foncé, de légumineuses et de soya. L'évaluation des modèles alimentaires a été utilisée pour créer et évaluer la DiPaC à l'aide d'une approche de recherche et développement agile et centrée sur l'utilisateur. La DiPaC, qui a démontré une validité élevée et une fiabilité intermédiaire (cohérence interne = 0,47–0,51), est accessible au public au
https://www.projectbiglife.ca/
. La DiPaC peut être utilisée par le public, les cliniciens et les chercheurs pour évaluer rapidement et avec précision la qualité de l'alimentation et obtenir des résultats immédiats. De plus, l'outil est facile à mettre en œuvre.
Get full access to this article
View all available purchase options and get full access to this article.
Funding statement: This work was funded through Canadian Institutes of Health Research (CIHR) Planning and Dissemination Grant 2017, and funds to the Canadian Research Data Centre Network from the Social Sciences and Humanities Research Council, CIHR, the Canadian Foundation for Innovation, and Statistics Canada. MJ was supported by a CIHR Banting Fellowship, and Canada Research Chair Program.
Conflict of interest: The authors declare that they have no competing interests.
Supplementary Material
File
(cjdpr-2023-013suppla.docx)
Information
Published In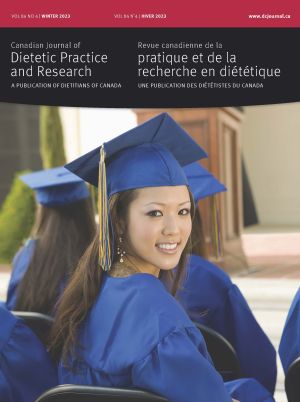 Canadian Journal of Dietetic Practice and Research
e-First
History
Version of record online: 12 October 2023
Citations
Cite As
MahsaJessriPhD
,
AdeliaJacobsRD
,
Alena (Praneet)NGMSc
,
CarolBennettMSc
,
AlisonQuinlanMSc
,
CharlotteNuttRD
,
JenniferBrownMSc
,
DeirdreHennessyPhD
, and
Douglas G.ManuelMD
. Development and Evaluation of the Dietary Pattern Calculator (DiPaC) for Personalized Assessment and Feedback.
Canadian Journal of Dietetic Practice and Research
.
e-First
https://doi.org/10.3148/cjdpr-2023-013
Export Citations
If you have the appropriate software installed, you can download article citation data to the citation manager of your choice. Simply select your manager software from the list below and click Download.
There are no citations for this item
Get Access
Login options
Check if you access through your login credentials or your institution to get full access on this article.
Subscribe
Click on the button below to subscribe to Canadian Journal of Dietetic Practice and Research
Purchase options
Purchase this article to get full access to it.
Restore your content access
Note: This functionality works only for purchases done as a guest. If you already have an account, log in to access the content to which you are entitled.